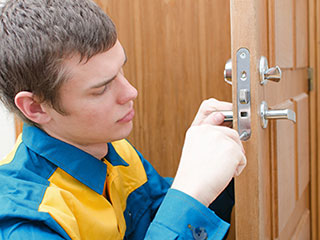 We've all at one point or another been in a position where our locks failed to cooperate. Whether it is late at night and you get locked out of your own home, or when you are trying to lock your doors to ensure your and your family's security – locks can sometimes get jammed. But don't worry. Keeping you safe and sound is our goal. And with that goal in mind, we provide complete locksmith solutions all throughout the day and night. Let us know whenever you are in need, and we will rush to your home and see to it that your locks don't bother you anymore. In case of any emergency, you can count on us.
New Locks Installation
Door locks are often overworked and underrated. We use them every day, but we take care of them the least. As a result, your door locks can malfunction. It's always a good idea to change them from time to time in order to ensure proper security and for keeping your home safe and secure. Let us know if you are thinking about getting new locks for your doors. With a wide range of selections of door locks, we can come and install new locks for your home. You might not think it's that necessary, but why take a risk when it comes to your family's safety? Always be vigilant, and never compromise. Call us today.
Complete Residential Locksmith Support
Not only are we good at repairing your main entrance door locks, our team of professional locksmiths can take care of all kinds of residential locksmith issues. From doors to windows and home cabinets – if you've misplaced a key or your lock needs servicing, you can simply give us a call. We'll take a look at it and let you know how it can be fixed. And together, we can decide on an optimum solution that is both affordable as well as secure enough.
Rekey Services Around the Clock
Misplacing home keys isn't a rare habit. For as long as there have been doors with locks, people have misplaced their keys. In case that happens with you and you find yourself locked out of your own house, call us right away. We provide rekey service and can help you out.
Locksmith Hollywood is team of dedicated, professional locksmiths who are always ready to help you in your hour of need. Whether it is installing new locks, rekey or general maintenance of jammed locks, give us a call.
Your home and business deserve the best. You can also count on us for: